September 2016 will see Kathmandu officially make its stamp on the global Maker Movement with the arrival of the inaugural Kathmandu Mini Maker Faire (KMMF), to showcase the very best in Nepali innovation and entrepreneurship alongside select international partners.
Organised by Nepal Communitere in partnership with the US Embassy and World Vision, the faire will act as a forum to highlight the leverage of the Maker and DIY movement, with a unique focus on humanitarian and other needs-based innovation as the Nepali people rebuild their lives, homes and livelihoods following the 2015 earthquakes.
In addition to bringing together entrepreneurs, makers, business people, members of international and national NGOs and government agencies, this family-friendly KMMF promises to showcase an array of incredible projects and new technologies to make, see and interact with.
About Maker Faire:
Maker Faire is the Greatest Show (and Tell) on Earth—a family-friendly showcase of invention, creativity and resourcefulness, and a celebration of the Maker Movement. It's a place where people show what they are making, and share what they are learning.
Makers range from tech enthusiasts to crafters to homesteaders to scientists to garage tinkerers. They are of all ages and backgrounds. The aim of Maker Faire is to entertain, inform, connect and grow this community.

The original Maker Faire event was held in San Mateo, CA and in 2015 celebrated its tenth annual show with some 1100+ makers and 145,000 people in attendance. World Maker Faire New York, the other flagship event, has grown in four years to 600+ makers and 80,000 attendees. Detroit, Kansas City, Atlanta, Milwaukee, Orlando, Pittsburgh, San Diego, Silver Spring, Ottawa, Lisbon, Paris, Rome, Berlin, Newcastle, Hannover, Oslo, Trondheim, Seoul, Singapore, Taipei, Tokyo, and Shenzhen are the home of larger-scale, "featured" Maker Faires. In addition, over 120 community-driven, independently organized Mini Maker Faires are now being produced around the United States and the world—including right here in _________.
Maker Faire is supported by Make: magazine and Maker Media.
About Make: Magazine: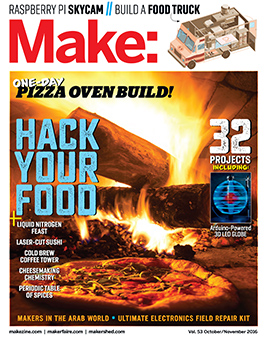 Make: is the first magazine devoted entirely to Do-It-Yourself (DIY) technology projects.
Make: unites, inspires, informs, and entertains a growing community of resourceful people who undertake amazing projects in their backyards, basements, and garages.
Make: celebrates your right to tweak, hack, and bend any technology to your will.
Besides the magazine and the faire, Make:
and Maker Media is: